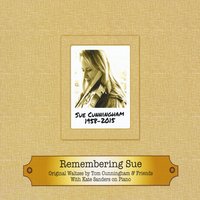 Remembering Sue, Tom Cunningham with Kate Sanders on piano
$15


A tribute to the memory of Sue Cunningham–65 minutes of sublime waltz music.
with Tom Cunningham on violin and Kate Sanders on piano.
Plus special guests Todd Hildreth, Mike Schroeder, Ken Allday, Bob Douglas, Sue Pellant Moore, and Cecilia Huerta.
"Tom, I put the CD in in the car w/o really looking at the jacket. First cut brought me to tears, before I even read about Sue. I am a sucker for a beautiful waltz anyway, but this knocked my sox off. Dude, that's art! I loved all the rest too, but not like that one."

– Mary C.
"Hey Tom, I LOVE the new CD!"

– Chris B.
"Tom, your waltz CD is pure love. I've been listening since last night."

– Rohit W.
"Nancy played the new waltz CD for me, love it. Will buy it Monday if you have any. Thanks for making it."

– Jack S.
"Congratulations on the CD. I'm listening to it right now. I really like 'Divine Lorraine.'"

– Jo M.
"It's a lovely collection of tunes with really nice arrangements. Sue would have been very pleased."

– David A.
"Love the Waltzes Tom….great job!"

– Dave F.
"Been listening to the Waltz CD. Love it!"

– Stratton H.
1. Remembering Sue
2. Divine Lorraine
3. Cynthiana, Indiana
4. Black Mamba Waltz
5. Baba and Tabouli
6. Prairie Waltz #2
7. Snake Oil (KS)
8. Heart of Ashes (DA)
9. Los Pollos Hermanos
10. Waltz For An Endless Spring (BD)
11. Ophelia Payne
12. Half Light (KS)
13. Jack's Wood Thrush Waltz
14. Queen Anne's Chalice
15. At the Bend in the Road
All tunes by Tom Cunningham, copyright 2016, except as noted: KS-Kate Sanders, DA-David Atcher, BD-Bill Dudley